Villa SElat
Your Private Haven / 1 Villa & 4 Suites / 12 to 14 Guests / 12 Full-time Staff
Located in Selat Samplangan and perched atop the Kendang River Valley, Villa Selat is housed within a private stone walled compound and offers both magnificent views and direct access to the wondrously energetic world of the surrounding greenery and river below. This expansive residence provides the perfect setting for family gatherings, with a large infinity pool, spacious outdoor living room, fully staffed kitchen, and your very own Concierge.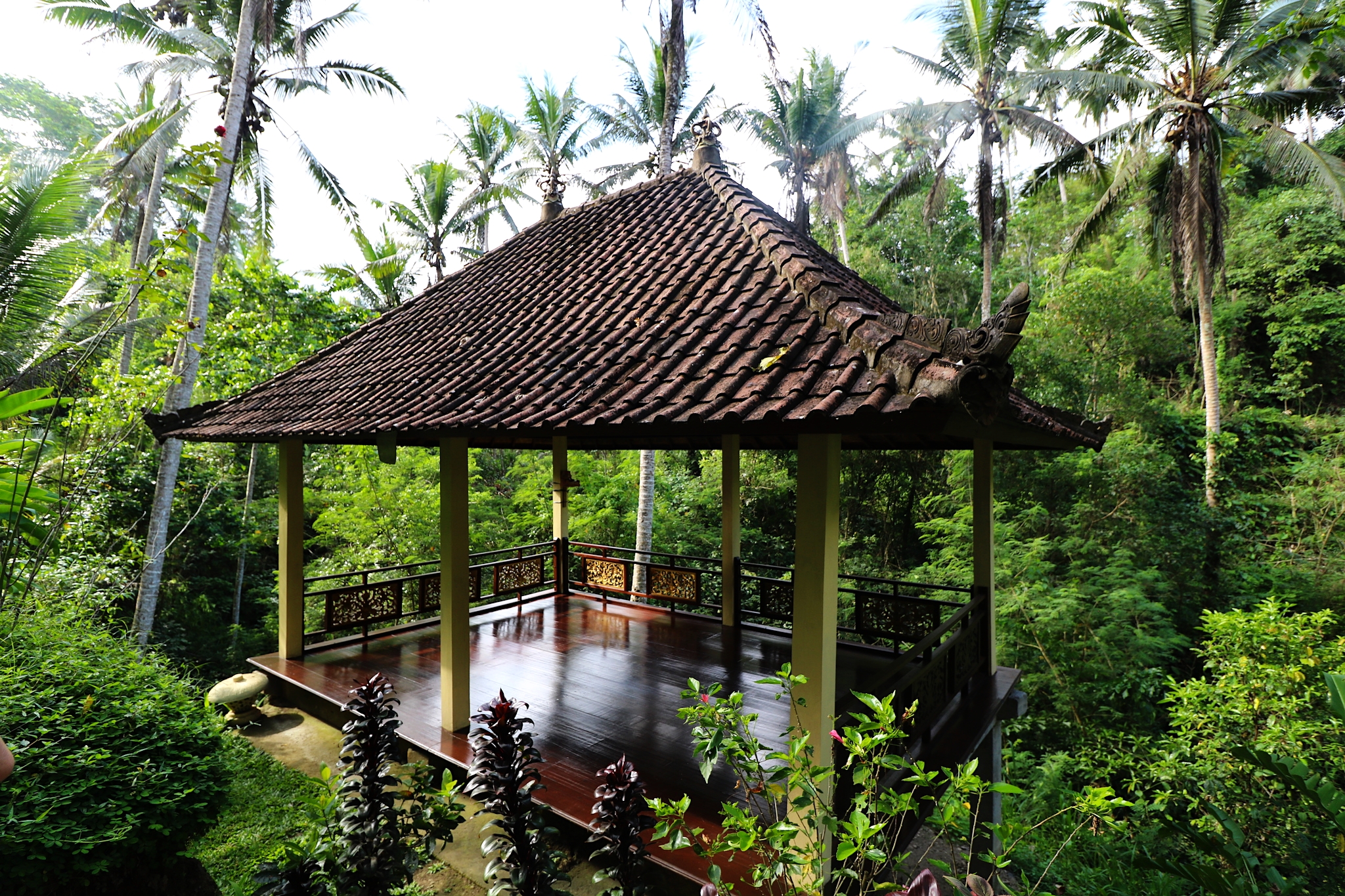 ANANDA villa
Family Villa / 2 Story / 5 Single Beds / 5 Guests / 2 Full Baths
The Sanskrit translation of Ananda is "bliss, the transcendent state of profound well-being, perfect happiness, and serene contentment."
This two-story Villa, surrounded by lush gardens and a private outdoor dining terrace is perfect for parents and up to three children. The ground level welcomes you with open sided air conditioned space to relax with family and friends, children's accommodations including king size single beds, a writing desk, and a professionally designed contemporary marble bathroom with a spectacular outdoor garden shower. The open platform stairway leads to the master bedroom featuring spectacular views of the valley vistas, dual walk in closets, a luxurious bathroom, and a writing desk.
BHAVANA Suite
The Honeymoon Suite / 1 King Bed / 2 Guests / 1 Full Bath
The Sanskrit translation of Bhavana is "the cultivation of sensitive spiritual connection through creative contemplation."
This suite, which sits at the property's highest vantage point and offers breathtaking valley views, is ideal for honeymooners.  A sense of seclusion and privacy is amplified by a private entry surrounded by lush gardens.  The king size bed and sheer white canopy, a wood-paneled walk-in closet and lavish marble bathroom with freestanding shower all contribute to the utmost comfort of this romantic hideaway. 
SATTVA Suite
Family or Friends / 2 Queen Beds / 2 to 4 Guests / 1 Full Bath
The Sanskrit translation of Sattva is "luminosity, signifying the light, clarity, and insight that is the fruit of virtuous living in tune with nature."
This suite, which opens to an outdoor garden with a covered pagoda, is accessed via a private entry on the ground floor.  Perfect for couples who like to spread out and friends alike; Sattva offers a substantial dressing area, dual walk in closets, a writing table, and a lavish marble bathroom with freestanding rain shower.  Contemporary Balinese décor welcomes with teak furniture, authentic artefacts and hand-loomed fabrics.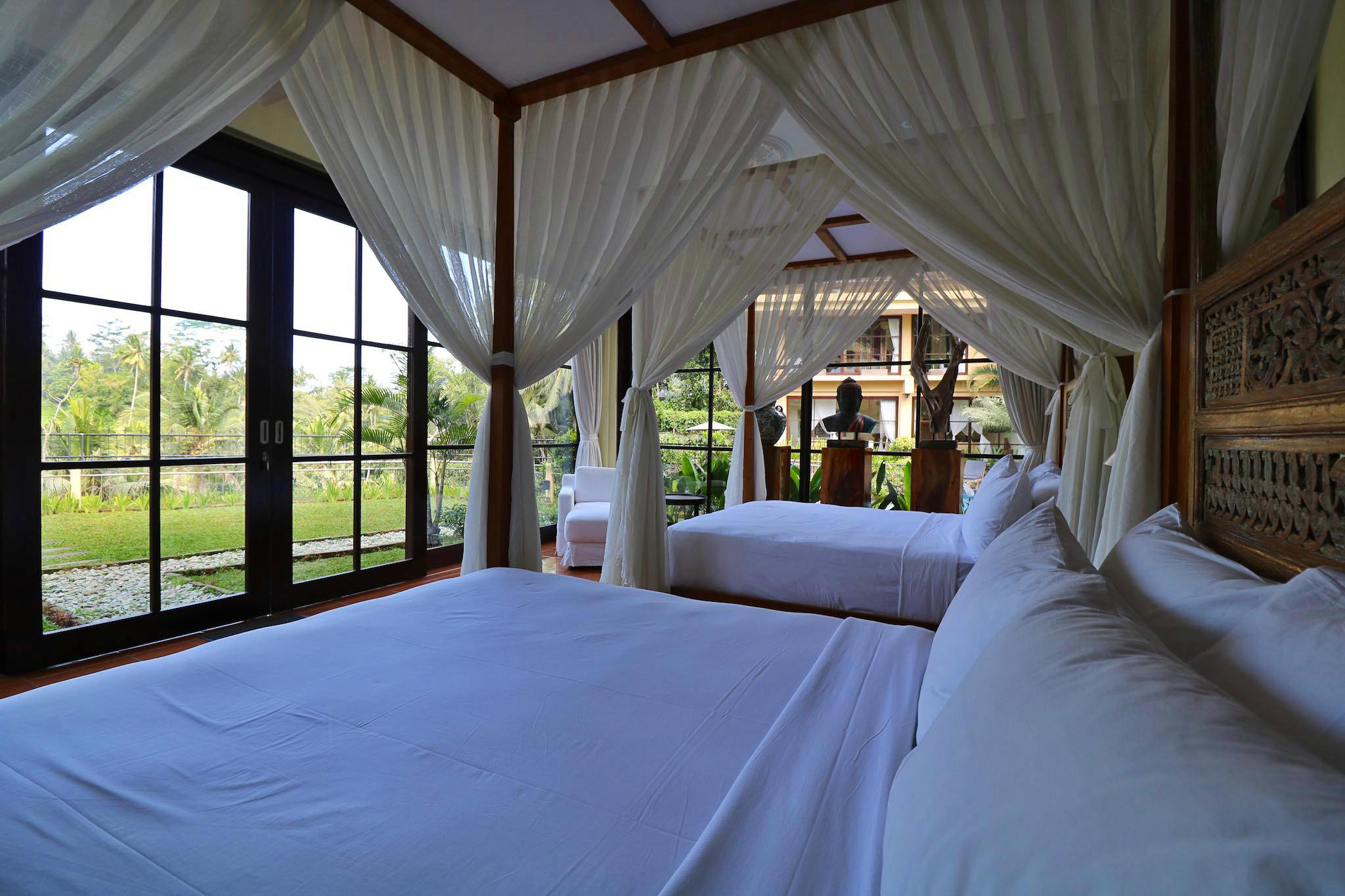 SUNDARA Suite
The Balinese Suite / 1 Queen bed & 1 Single Bed / 2 to 3 Guests / 1 Full Bath
The Sanskrit translation of Sundara is "lovely, indicating the radiance of both inner and outer beauty."
This tranquil suite was created to showcase the distinctive charm of traditional Balinese décor.  The hand-carved Java doors open into a brightly colored space adorned with exuberantly crafted Balinese and Madura furnishings.  The intricately carved wood, locally sourced shells, and traditional fabric harmonize with the Balinese architecture of Villa Selat.  Sundara offers a private outdoor deep soaking stone bathtub and rain shower allowing guests to harmonize with their surroundings. 
KING'S ROOM
East Timor Hut / 1 King Bed / 2 Guests / 1 Full Bath
The King's Room is a beautifully-constructed Uma Tidor conical hut; truly representing its Timorese roots by being "consistent but diversified."
This suite was built with the adventurer in mind. A play between outdoor living and traditional interiors, this cliff side suite overlooks the jungle below and offers the sounds of a babbling brook and the chatter of Balinese nature.